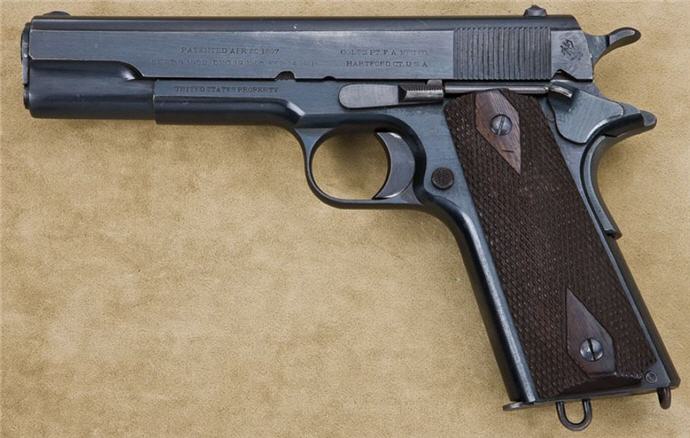 New Grips For 1911 Pistol
A short while ago I shared the story of my grip upgrade on my Springfield Armory XDs and even included a video of the simple & easy installation process (if you missed that, click here)
Your responses to that were overwhelming and I really appreciate all the kind words; I'm so glad it was helpful to so many of you.
Some of you, though, inquired about grip upgrades for the 1911 platform…
Now we all know there are really cool grips you can get for a 1911 that have that "WOW" factor and impress all of your friends (Like these or these)!
Yet, which grips will actually do something to help improve your accuracy and comfort when shooting?
Well…
I've found some!
And it's no surprise they have "Hogue" written on them: Hogue Govt. Model Rubber Grip Panel Checkered with Diamonds
(http://amzn.to/1OsoKYC)
Hogue grips are widely known in the shooting world and perhaps you have seen the Hogue grips I put on a S&W 627 that really improved controlability.
Though I'm not done yet…
How about we combine a Hogue product with another well-known name?
Pearce Grips has an insert that work with most any standard grip on your 1911: Pearce Grips, Rubber Finger Groove Insert
The Pearce insert gives you finger grooves that normally are only found on "other" guns… 🙂
Side portion of these grips are only 1mm thick; overall width is only minimally affected
Fits under any GM 1911 side panel grip adding rubber finger grooves
Provides better comfort and better handling
Allows the user to use any type of side panel grips (wood, simulated ivory, pearlite, etc)
So with this combination you can do a number of things for your 1911 that can add to the aesthetics AND improve your shooting!
1911's are a time tested, reliable and fun platform; let's get the most out of it we can…
I'll definitely be looking at some of these upgrades when I tune-up that .45 I took the die grinder too.
Lovin' the smell of gunsmoke in the mornin',
Roger
Founder: PistolSnipe.com
Creator: IFR 4X Pistol Shooting Accurizer System™
Like our: Facebook Page
P.S. – We've still got a few of those 1911 Gun Muzzle decals available in a free + shipping offer here: https://freedecal4.pistolsnipe.com