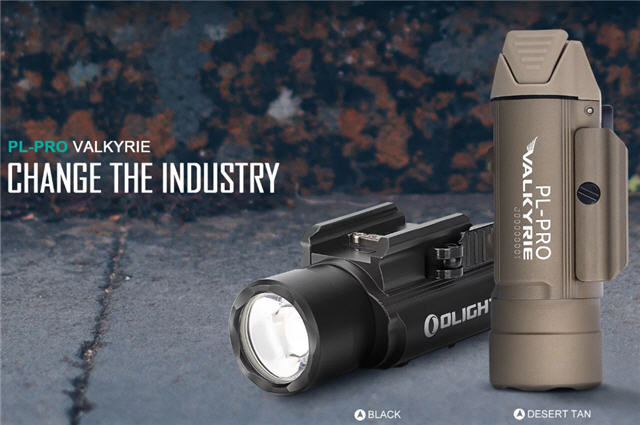 Rechargeable Rail Mounted Weapon Light
Also Shown: Optional Magnetic Remote Pressure Switch
The Olight PL Pro review here includes both rifle mounting and pistol mounting, lest you think this weapon light is only for one or the other.
Olight is a bit of a newcomer on the market with their increasing array of weapon lights, laser combos, flashlights, keychain lights and likely more to come.
The PL Pro "Valkyrie" currently comes in either black or desert tan and from what we can tell is every bit as well made as the previous Olight models we have reviewed. (Click here for the Olightstore)
First, what comes in the box:
Olight PL Pro Valkyrie rail mount weapon light
Olight magnetic charger (USB. Adapter for wall outlet is same as for your phone, etc)
1913 Rail guide (to replace installed GL guide)
"L" shaped T6/T8 torx head tool for changing rail guide
Instructions
Second, some specs:
3 modes: 1500 lumens (45 minute run time), 300 lumens (90 min), strobe; plus "lockout" mode
Cree XHP 35 HI NW LED
IPX6 waterproof
Beam distance: 280 meters (>900 ft)
Magnetic connector for charging/remote switch
Customized Li-Ion Battery
Ambidextrous switch (both required to activate strobe)
30 day money back guarantee
2 year warranty
** Did you notice the 30 day money back guarantee and the 2 year warranty? **

Olight PL Pro Usage
The PL Pro Valkyrie from Olightstore is most likely going to be found on rifle rails since, in our opinion, the size is a bit bulky for some who will carry in a duty holster. Nonetheless, you'll undoubtedly find them on a pistol near you soon as well. The size is not a problem for us.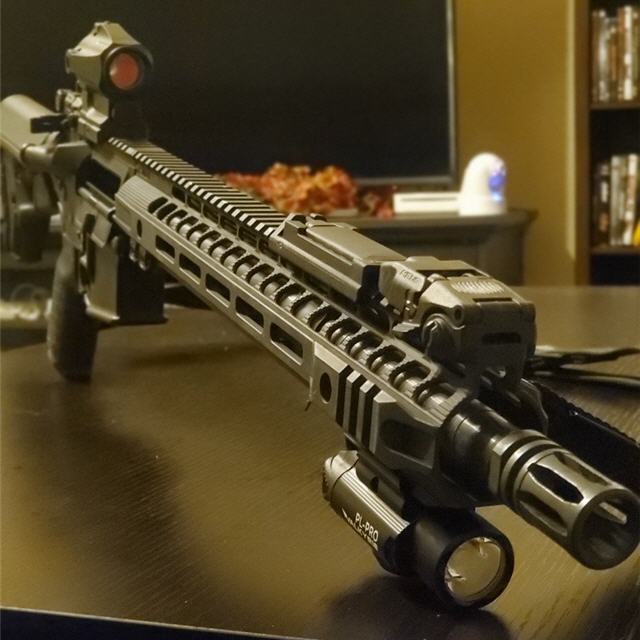 In the image below, we tried out the Olight PL Pro on a Springfield Armory XD-40; check it out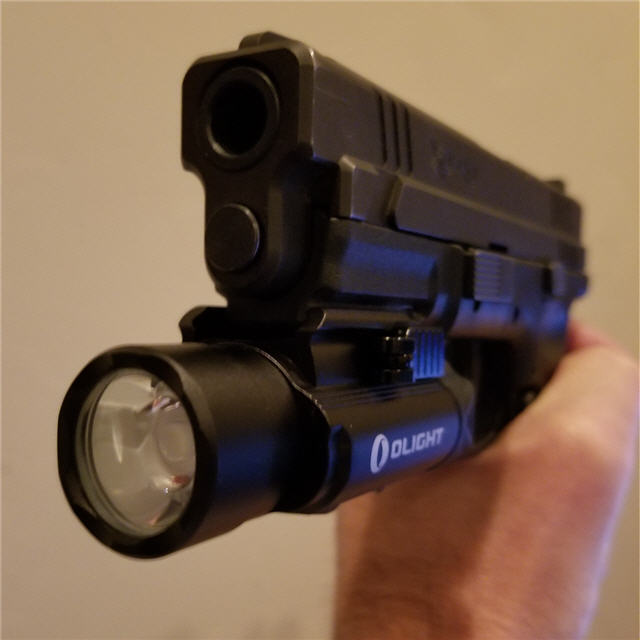 Olight Magnetic Connector
With Olight you will get used to seeing the magnetic connector. This is how the rechargeable battery is rejuvenated and how the remote pressure switch connects when used on a rifle (pictured above).
The magnetic connection is easy, reliable and seems very secure as well. You can see how when mounted on a rifle rail (2 small zip ties are included for securing the wire) the profile is kept very tight.
What you cannot tell on the picture above mounted on the pistol is that the connector is on the BOTTOM of the light, flush.
Summary
What else can we tell you about the Olight PL Pro Valkyrie?
It's well made, easy to install, works great and the battery lasts quite a long time for the power offered. The low profile latch is tight and secure. All the tools you need are included.
It comes in the color you need, probably. No OD Green..yet!
And it looks pretty darn cool, too. (Yes, that seems to matter with firearms – don't you think?)
Shop now at the Olightstore – CLICK HERE
Here's a Facebook post one of our team uploaded after installing and trying out the Olight PL Pro Valkyrie on her rifle: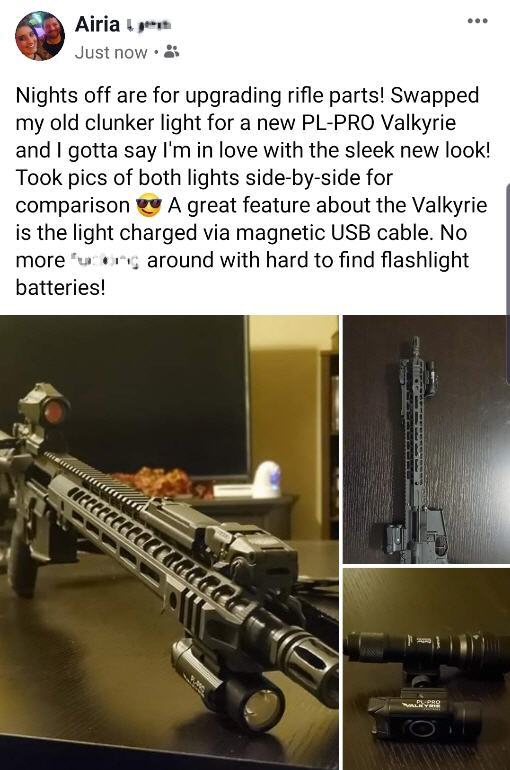 [November 2019]
PistolSnipe.com is an authorized affiliate of the Olightstore