Contents
LumiTact G700 LED Flashlight
HyBeam Tactical Flashlight
Glock Magazine Baseplates
MagLula UpLULA Universal Magazine Loader
Things I Bought That You Might Like Too…
Yes, I admit it…
No, I will NOT enroll in any 12 step program to overcome it…
I like to buy cool stuff! (Who doesn't?)
Sometimes it's a product, other times it's information…
Here on this page I will clue you in on stuff I bought that I find useful and maybe you will too. Sometimes just a description and a link, other times I've got a video review for you.
Be advised, on RARE occasion I might get some form of compensation if you buy it, though that does NOT effect my opinion of it – nor does it increase your cost in any way.
If I think it's garbage you won't see it here. Junk is junk and I don't want you to buy it; in fact, some of these products are guaranteed and I suggest you take advantage of that guarantee if you feel it was money wasted!
Sadly, no one sends me stuff for free so that I can review it, I've paid for everything you see with my own cold, hard cash. (Whenever possible, I use a CASH BACK credit card, though… I'm not stupid).
Leave a comment if you buy something and have an opinion one way or another, as long as it's civil I'll print it.
LumiTact G700 LED Flashlight (with rechargeable batteries)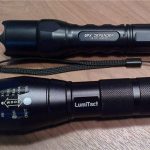 The G700 LED Flashlight from LumiTact made such an impression on me that I actually did a full review on it, complete with 2 videos (1 at night).
You can read all about how it replaced my SureFire 6PX Defender on my belt, the 2D cell light in the garage and cars –  hence, why I love it so much by CLICKING HERE
HyBeam Tactical LED Flashlight (Free + Ship offer)
* Perfect for the Range Bag
I'm normally pretty skeptical of free + shipping offers but I am really impressed with this HyBeam Tactical flashlight. It cost me $4.95 shipping plus $0.31 tax for a total of $5.26. AND… (unlike the Wolf gun oil) they shipped it promptly!
I put a slightly used AA battery in it and yes, the beam is blinding! Yet the 3 position switch has another setting that is not blinding and perfect for helping my "over 40 eyes" read things.
Watch this video to learn more about why I love it and will keep one on my desk, put one in each vehicle and make sure one is in my range bag.
>>Learn more about this free flashlight offer here<<
Glock Magazine Base Plates (Colors, Utility)
One cool thing about Glocks is the removable magazine baseplate. I use different color baseplates for training purposes and, I feel, and increased margin of safety along with convenience.
I use blue baseplates for dummy ammo only, NEVER any live rounds; I use orange baseplates for drills that combine dummy and live ammo. The idea is that I NEVER use anything but a black baseplated magazine for carrying the weapon for self-defense!
See the video and all the associate links here: Why I Like Glock Pistols – Ultimate 3 Gun Carry!
MagLula UpLula Universal Magazine Loader/unloader
* Perfect for the Range Bag

Get the MagLula UpLula on Amazon (This works 9mm – .45, make sure and get the right one for YOU!)
Maglula Uplula Pistol Speed Magazine Loader (9mm to 45ACP)
(Yes I will be adding more cool stuff, just be patient!)