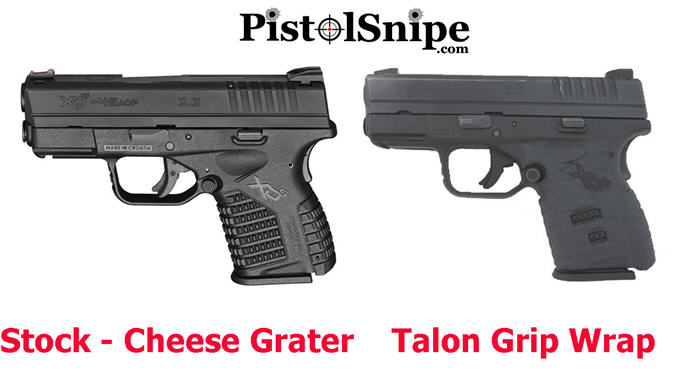 Talon Grips
Hey fellow shooter…
Yesterday I promised you a follow up on how those new tires on the race car reminded me of the Talon grip I recently installed on my Springfield Armory XDs (.45).
So despite being a little sluggish this morning after being up late on a really great LIVE hangout with the PistolSnipe VIP Club here I am typing away before the day gets away from me…
These "upgraded" tires for the little race car set were made of a softer rubber that seemed to really "grip" the track better, resulting in fewer frustrating wipeouts.
I liken that little race care "wipeout" to a shooter breaking his/her grip after the shot…
Concealed Carry guns like the XDs are typically much smaller than normal – if you can conceal a full size pistol that's great, not everyone can – and that leads to a smaller grip and less "skin" that you can use to establish a proper grip. (Not having a proper grip leads to less accurate shots…)
The folks at Springfield thought a good way to compensate was to create a very accentuated grip profile that many have likened to an old fashioned cheese grater. And when firing hot .45 self defense rounds, that's exactly what it feels like!
The problem is that for someone like me with relatively large hands trying to conform to a small pistol, complicated by years of abuse working a keyboard and mouse, that recoil driving a highly granulated grip into your skin can cause you to "break" your grip when firing. Not ideal…
So while I had dismissed the idea of the Talon slip on grips after reading the reviews, a couple of folks wrote to me saying the adhesive Talon grip was awesome. And at less than $20 a great deal.
Installing the Talon grip was easy and quick, and I'm told you can get it off without mucking up the pistol should you ever want to.
The result?
A MUCH more comfortable grip that is far more pleasing to shoot and takes away that skin ripping sensation present before…
Along with better follow-through and faster follow-up shots!
With the grip being more comfortable it is easier to "convince" yourself to grip tighter as well, helping with recoil control. These grips come in two "flavors":Granulate or Rubber texture. I got the rubber.
Here is a video I did installing the grip
You can check out what others say about this Talon grip here: http://amzn.to/24jWjpa
or if you have an M&P Shield, check here: http://amzn.to/21LofEA
Take advantage of the good weather (if you've got it) and get out shooting. Don't make the mistake I did last weekend …
Roger
Founder: PistolSnipe.com
Creator: IFR 4X Pistol Shooting Accurizer System™
Like our: Facebook Page