Meet Roger From PistolSnipe™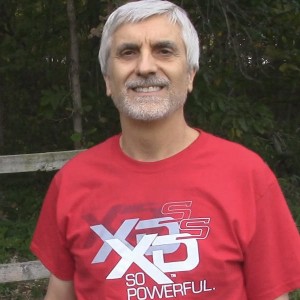 PistolSnipe.com was founded in 2015 when I realized I had cracked the code for putting my shots where I wanted them (pretty much, anyway…James Bond, Jason Bourne, Jack Bauer I am not – perhaps your initials have to be J.B.?).
You see, for over 30 years I had been a frustrated "plinker" with no measurable improvement in my shooting over the course of that time. Going to the range more often, spending hundreds of dollars sending thousands of rounds down-range was not making any difference.
If anything, I was just reinforcing bad habits.
(So when you hear "all you need is more practice", know that is either a myth or outright lie. It's like expecting a senior Senator with 30 years experience to introduce better legislation than a freshman Senator…)
A couple of years ago I decided it was now or never to get serious about my shooting. Life changes had given me the time, I had a spectacular place to shoot, and I made it happen.
So I began studying how to shoot properly. With the internet and advent of YouTube I figured it would be easy. Sadly, more information doesn't necessarily mean better information.
Much of what is out there is just plain bad..
What I did was analyze the Good, the Bad, and the Ugly (yes, I am a fan of the Man With No Name trilogy) and keep the good while discarding the rest.
While putting it all together I stumbled upon some revolutionary breakthroughs that made all the difference in the world with my shot placement.
It was only after I saw the reaction to my "ripping out the bulls-eye" on a friend's face that I realized I had to share what I had learned about how to shoot better.
I'm Probably Not Much Different Than You
You may have realized by now that I am not showering you with my credentials as to why you should admire me as a shooting instructor.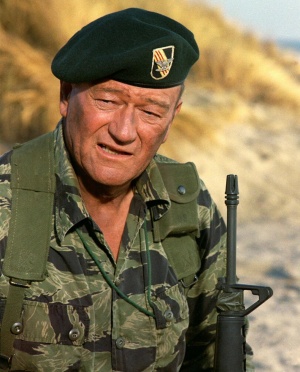 While it would give me great pleasure to tell you that I am a former:
FBI Shooting Instructor
Navy Seal
Army Ranger or Green Beret
Texas Ranger
CIA Sharpshooter
MI-6 "Double-O" Secret Agent with a License To Kill
unfortunately… none of that is true.
Yet that is GREAT NEWS FOR YOU!
Perhaps you have seen, or even purchased, a course online for how to improve your golf swing. Invariably it is sold by some current or former pro golfer with talent uncommon to the rest of the population. While they may be able to help you, you know – deep down inside – that you will never hit a ball as well as they do.
And, you have to wonder whether their golf instruction will really do much good for the average guy out on the links every other Saturday.
With PistolSnipe, and my IFR 4X Pistol Shooting Accurizer System™, you can take encouragement from the knowledge that I was not a "born shooter", I was never highly trained at Government expense and actually paid to spend my days refining my marksmanship.
No, I'm just an average guy – much like yourself in many ways – who decided he wanted to be able to HIT what he was shooting at and figured out a way to make it easy for himself and for anyone else with the same desire to learn how to shoot better.
My Introduction To Shooting
The first time I fired a handgun I was maybe 12 or 13 years old. My dad had an off brand 8 shot .22LR double action revolver he bought somewhere and took me out in the back of an industrial area, set up a beer can and after making sure I understood the basic mechanics of the gun let me shoot.
No eye protection, no hearing protection.
Ouch! My ears rang for about 24 hours. It's not his fault, he didn't know better. He was a young lad when his mother bought him a pump style .22LR rifle – probably out of the Sears catalog! – and turned him loose to hunt squirrels and rabbits to put food on the table. Later, as a WWII veteran I'm pretty sure they didn't worry about such things as hearing.
WARNING!: Hearing damage from the report of a firearm is CUMULATIVE AND PERMANENT!
Please, always wear appropriate & approved safety equipment.
I Had The Bug
Despite the bad experience of painful hearing… I had been bitten by the bug. I loved firearms and wanted to shoot as often as possible; even reloaded my own ammo to save on money.
Unfortunately, I never had any formal training and did little more than tear up targets and reinforce BAD HABITS!
I had the good fortune to be friends with several police officers and was able to learn a thing or two about firearms and shooting, but still never acquired the basic fundamentals. And, just as in most any sport, fundamentals are everything.
Come And Listen To A Story…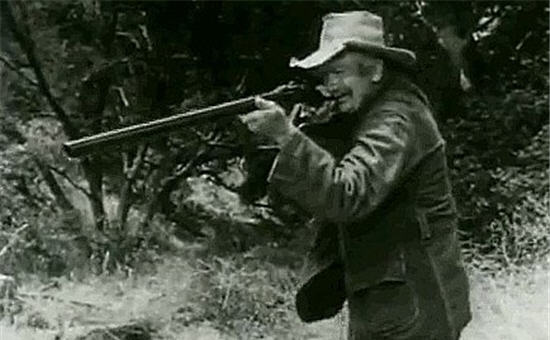 This story is not about a man named Jed but it does take place on a farm in a backwater rural location devoid of much excitement to speak of.
I had lots of mowing to do and as was my custom whenever out and about on our 87 acre wood (13 acres smaller than that of Winnie-The-Pooh, just for reference  🙂 ) I carried an old Glock 21 (.45 auto) equipped with a 13 round mag in a Fobus holster.
Every once in a while nature calls or you just need to stretch you legs.
Over the years I have developed a passion for eliminating nasty wooded plants from the acreage. Mulberry trees are one such nuisance (along with Osage Orange) and anything else with THORNS. They often grow up close to the trunk of a pine tree meaning that you can't get at them conveniently with a mower.
Cut them and unless you treat them with Tordon they will grow back, only with about 4 upshoots instead of the 1, making them all the nastier to eventually deal with.
(Goats apparently much garbage like this in such a way that they do not grow back, so some will have goats roam their woods to "clean up".)
How About If You Shoot Them Off?
I thought these saplings looked like good target practice, could I shoot them off – and if so, would they not grow back?
Turns out, yes and no. I *can* shoot them off and it seems they do NOT grow back!
Here is where the story gets relevant (in case you were wondering).
I started from about 5 yards away (careful of my backstop!). They are not much wider than the .45 bullet I'm shooting at them, anywhere from .5 to about 2 inches (much bigger than that and it's probably time for the chainsaw).
Problem: If you miss, you can't tell WHERE the shot went – left, right? (high or low would still hit).
I knew from experience that I normally errored to the left, but I also knew that fudging wasn't the answer, I simply had to learn how to shoot better; and since I had probably fired around 15,000 rounds (just a guess) in my lifetime, MORE of the same simply was not going to be the answer.
What I needed was a Pistol accuracy SYSTEM that would get my shooting honed in to the bulls-eye.
Unable to find one, I created my own…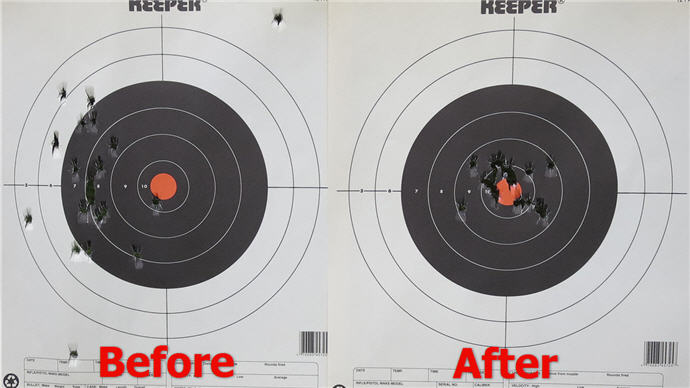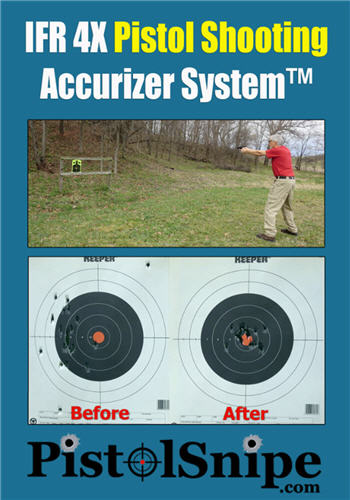 IFR 4X Pistol Shooting Accurizer System™
I won't repeat everything here, if you are interested in experiencing the confidence of knowing you can hit what you aim at, rip out the bulls-eye and do that on a consistent basis, check out this revolutionary system here.
I am so confident this system can help almost any shooter (short of folks already expert marksman) that I offer a full 1 year, money back, satisfaction guarantee.
Available completely online with the option having a physical DVD delivered to your mailbox for just a few dollars more.