[This email went out to subscribers on 3/16/2017, see original WWII photos at bottom]
Happy St. Patrick's Day to all you of Irish Ancestry – or even if you just like green things 🙂
[KEEP READING FOR 15% DISCOUNT CODE!]
I'm not Irish, though growing up I did have a VERY IRISH 'uncle' who went by 'Mac' since his last name was McNamara…
No, he was not an 'uncle' like in the Sopranos, just a close family friend. When he did St. Patrick's Day, he did it BIG – every year!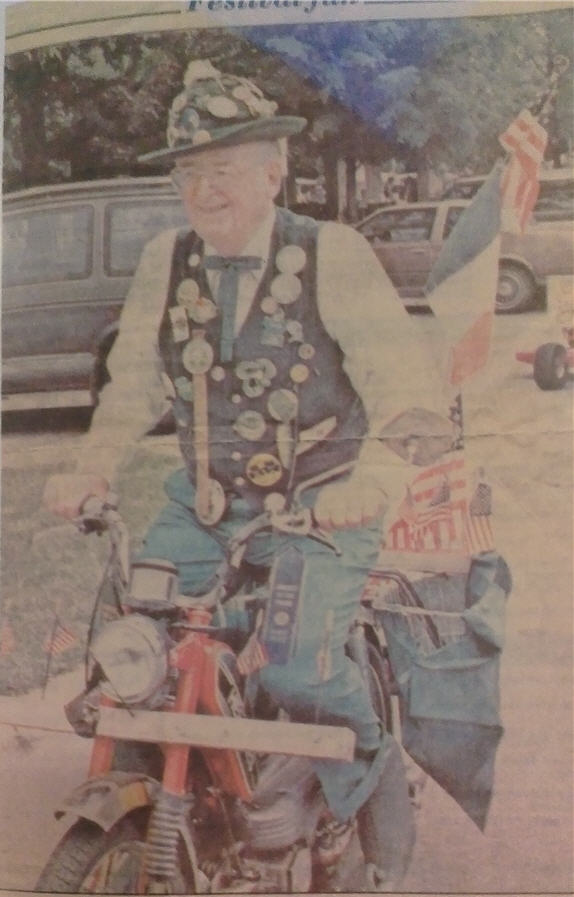 This photo is from the town's music festival in 1989… in JUNE! Sadly he would be gone just 18 months later.
Mac was a proud Veteran of the 78th "Lightning" Division in WWII, coming home with a purple heart, a "German" Flag (can't use the 4 letter 'N' word for fear of censorship) and even faded photos of the Remagen bridge and a concentration camp oven (see pics here) that I still have.
ANYWAY… I digress (it happens!)
Mac ran a variety store in town and one day we were in there and saw a young girl who also was a family friend and worked for Mac. She was not very happy.
"What's up?" I asked…
"Mac said to ssstuffff the shelves with merchandise so I'm sssstufffing the shelves as full as I can get 'em!". Believe me, those shelves were so stuffed full it was comical…
I laugh about that to this day.
Stuffing the Shelves of the PistolSnipe Store
In case you were wondering about the connection this story has to anything at all –
I guess that's what we've been busy doing for the last few weeks, "ssstufffing the shelves" of the PistolSnipe Store, adding more & more cool products we know you'll LOVE!
We work really hard to come up with new, exciting items of interest that you haven't seen before – it's not easy!
One I'm particular proud of is the new CUSTOMIZABLE text "I Back The Blue" T-Shirt is really awesome and you can see that here; What can be better than a shirt where YOU SUPPLY THE WORDS?
There are also more new mugs than I can mention, including some 'new technology' mugs like a color changing mug for Hog Hunters and full wrap Korean War Memorial mug! You have to see them to really appreciate how awesome they are.
We also have added some new vest patches and still have some of the hand exercisers and flashlights (though we are running low…) in stock.
2 Days, 15% Off!
So in honor of my old 'uncle' Mac and shelf stuffer Jacque (who I haven't seen in forever), we are having a 2 DAY St. Patrick's Day sale with 15% off for loyal subscribers like you…
Just head over to our store, "ssstuffff your cart" full, and use discount code MAC15 at checkout for 15% OFF your entire order (valid for orders $20 and over)!
Roger
Founder: PistolSnipe.com
Creator: IFR 4X Pistol Shooting Accurizer System™
Like our: Facebook Page
P.S. – You can see all the NEW PRODUCTS in our store, sorted by newest first, by Clicking Here Now
P.P.S. – This 15% off orders $20 or more will expire midnight CT 3/17/2017, so don't delay! Use code MAC15 – PistolSnipeStore.com
Mac's Photos from WWII