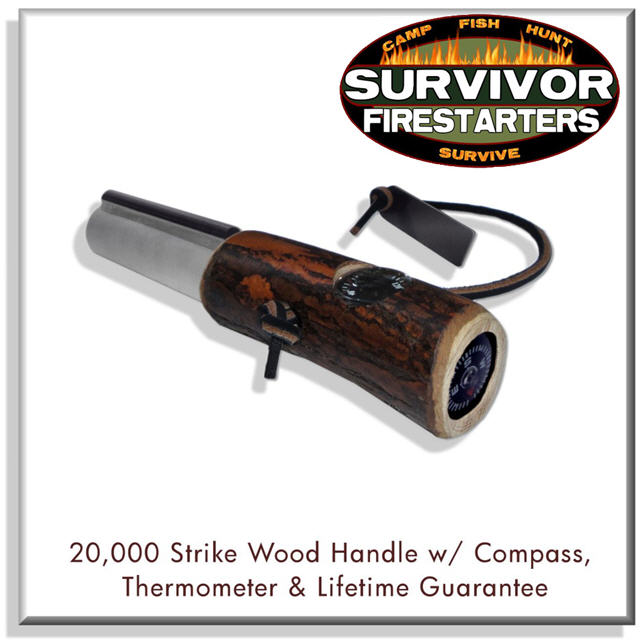 Best Survival Fire Starter Kit
Survivor FireStarter 20,000 strikes is a flint and steel fire starter with magnesium fuel rod to start camp fires easily even in damp conditions. The magnesium fuel burns at 5000 degrees and will light about anything on fire (watch the videos, I saw the demonstration in person and was instantly sold!)
The best part of the gun show in Jourdanton, TX last weekend was getting introduced to Roland from Survivor FireStarters in Edinburg, TX.
These products were invented by him and are hand made in Texas, USA!
Multi Purpose Survival Tool
This handy, affordable product is a combination:
Flint & Steel Fire Starter
Fuel Rod
Glow-in-the-Dark Compass
Thermometer (submersible)
Signal Mirror
And it's available in 3 styles:
To see how well this works, you have to watch the video – this one is when they had a booth at the 2013 shot show:
Survivor FireStarter Video
This is another must have survival tool for Scouts, campers, hunters, fisherman and definitely the bug-out bag…
The Survivor FireStarter is incredibly easy to use and pretty much fool proof. Get some kindling, add some magnesium shavings if need be for damp conditions, have your fuel ready and give it a strike.
With 20,000 strikes you practically can't wear it out, if you do then call the company and the lifetime guarantee will kick in and you'll get another one!
The wood handle model is a bit more expensive, the plastic handle is available in orange or black…
This is absolutely the best, easiest to use flint and steel fire starter I have ever seen.
Gun Show Crowd Impressed
Standing next to Roland at the gun show I was simply amazed…
People would walk past his both with only mild curiosity as to what he was selling and he would simply say "can I show you how it works"?
Every single person said "Yes"…
And about 50% bought after seeing the demo!
I came home with 2 of them and my daughter wants one for her camping trips.
All I can say is: Watch the demo and then CLICK HERE TO GET YOURS