ISIS Hunting Permit Sticker
Hey fellow shooter & Patriot…
Since it's Summer and I know many of you are traveling or just out at the range more you haven't heard as much from me…
Yet it's also because I have been really busy with the "Gun Control Insurance" program I'm working hard to finish as the "war on the 2nd" heats up this election season ("GCI" is included in the VIP Club private members area).
You might also be as frustrated as I am every time I read about a top Obama or Hillary advisor who doesn't just happen to be a muslim, but who proactively is seeking to change America to be more like what they could easily get by just moving to a muslim country.
And every time a tragedy occurs, guns, Republicans and the NRA get blamed instead of the muslim shooter who it seems is a registered Democrat about 90% of the time!
We need to keep our voices heard to protect our gun rights – and way of life…
You Asked For It, Now You Get It!
Many of you will frequently request a new sticker or T-Shirt design so that you can proudly display your patriotism…
Thank you for your input! (Yes, I do listen!!!)
Our latest sticker, the "ISIS Hunting Permit" is now shipping, and I thought you might be interested:
(approximate size 5″ x 3.5″)
As you can see, there are many design features to clearly express how the true Patriot feels about ISIS and islamic terrorism; a stark contrast to how our President feels (some call him "Coward in Chief"…)
Yes, the sticker is a novelty, yet it helps get the message across to all the "sheeple" out there who just don't realize that we ARE being invaded, and the invaders have help from within…
You can pickup your "Hunting Permits" at our online store (where we do accept PayPal) – and get f.r.e.e shipping…click here
So What's With The "For Patriots & Grandma's"?
Well, you can get that answer by watching the short (20 second) video I posted on the fanpage here  (sorry, Facebook didn't seem to like a negative portrayal of a terrorist organization)
Here's a relevant image, though: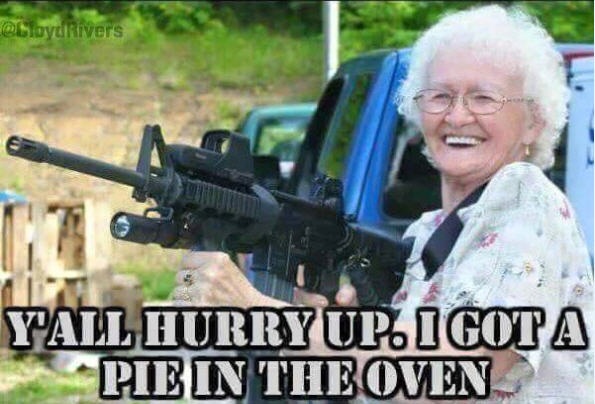 I hope you are having a great Summer; keep in your prayers those affected by severe weather, flooding… and the ever recent ISIS terror attacks…
Another surprise is in store for next week, so stay tuned! … and … Stay Safe!
Roger
Founder: PistolSnipe.com
Creator: IFR 4X Pistol Shooting Accurizer System™
Like our: Facebook Page
P.S. – More cool products for gun lovers coming to our new store almost every week: https://pistolsnipe.myshopify.com, and yes we take PayPal!
P.P.S. – After the first ISIS Hunting Permit sold on the store with PayPal, PayPal put a lock on my account until I fully explained why the word "ISIS" appeared! Once explained, with a link to the sticker, all was good (phew!) – Check it out here: https://pistolsnipe.myshopify.com/products/isis-hunting-permit