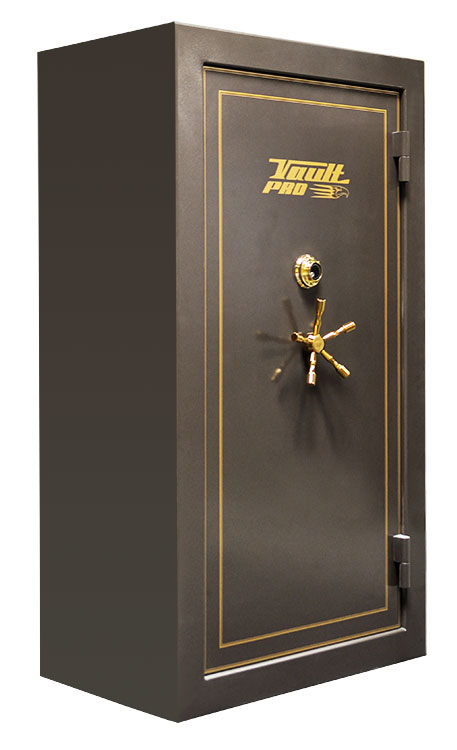 Challenge Of Getting 2000 lb Gun Vault Into A Home
When looking to buy a gun safe, most people know that you want something that is HEAVY or else what your really have is a gun "cabinet" whose primary purpose is to keep kids and honest people out.
If you want to keep anything but the most amateur of thieves from hauling your safe right out the door, you need to be thinking more in terms of a gun "vault" than a "safe".
Any box with a lock whose walls are 12 gauge steel or better can be called a "safe", and most of the "safes" you will find at those big box outdoor stores have nothing more than 12 gauge steel. (We have written about this before here)
The problem is 2-fold:
You have to do some digging to even find out how thick the steel is on those safes; it's not clearly marked on the promotional material (that's a big warning flag)
12 gauge steel can be fire axed or cut with a grinder in pretty short order especially when it's cheap Chinese steel instead of top quality American steel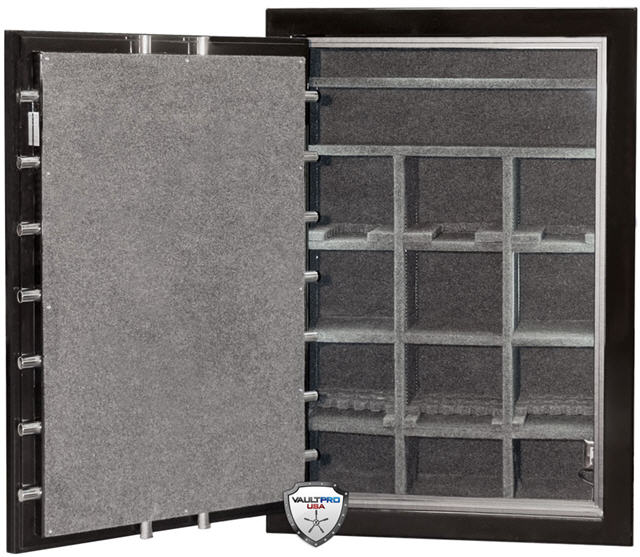 What A REAL Gun Vault Looks Like
A real gun vault that can both protect your valuables from theft and a full blown house fire is NOT one you find on the floor at the big box store with a big red "SALE" tag on it. Even if you bolt it to the floor (which you should) your protection level is probably not what you think it is.
If you and a couple friends can get that gun safe inside your home with just a little perspiration and about 20 minutes time, trying to be careful not to bang up anything…
Then think about how easily 4 determined thieves who could care less about banging things up can get it out!
How Much Does That Gun Vault Weigh?
People often ask how big of gun safe they should get…
My response is to figure out how much space you need and then double it!
The problem with that is, obviously, you end up with a safe that is too expensive, too big and too heavy to even get into your home.
The AE-740 Vault from VaultProUSA is 25″ deep by 40″ wide and 6′ tall. This is one of my favorite sized safes to recommend. Yes, you can go shorter and save money and weight but that extra full width shelf is really nice to have.
This vault can have MULTIPLE layers of 1/4″ steel!
With just one layer of steel it is a heavy safe. Add a 2nd layer of Stainless Steel or AR500 Steel and now you are talking a safe that's pushing close to 2000 pounds! With a 3rd layer? – Call and ask Tony  🙂 
Now configure that in 50 or 60 inches wide!!!
Once installed in your home, even without being bolted down only a VERY determined set of thieves with the right tools and some time are getting that out of your home. Bolt it down as recommended and it is quite secure.
How That Heavy Beast Gets Delivered To Your Home
A vault of this weight will be packaged professionally, likely have C channel steel supports bolted to the bottom or bolted to a heavy duty pallet.
A delivery truck with a full size powered liftgate and only one delivery person will stop at your driveway. With a heavy duty pallet jack they can (hopefully) get it up your driveway and into the garage.
If your curb is cut and not "ramped" it can be a bigger challenge; a talented operator will likely set it down and move the pallet jack onto the driveway and re-grab it once or twice to make the transition. 
A nice, smooth "ramped" driveway to street transition is much preferred (but hard to find in the cookie cutter sub-divisions of today).
You may have to spot the guy an Andrew Jackson to get him (or her?) to put it in the garage. You want it in the garage…
Inspect for damage before signing, then…
Unwrap all packaging and inspect again. Check the power cord, if included, to make sure the plug did not get squashed or damaged in any way. You want your vault ready to move into position and bolted down. May even need to touch up some paint, never know.
How To Get A 2000 LB Gun Vault Into Your Home
What do you mean, into your home? I was going to install my gun safe in the garage!
Why your garage is a bad place for your gun safe or vault
Let's list the reasons I prefer the vault in the house and not the garage:
When the garage door is open, the safe or vault may be visible
The garage typically is not air-conditioned, meaning your vault dehumidifier will have to work overtime. It will probably lose and your guns will rust
Your garage is probably not alarmed like your house
The typical home is not that hard to break into but the garage is almost always easier yet
Your own tools might be handy to a burglar who forgot his
Not even a smoke alarm will go off from dust generated from breaking into the safe
Easiest to tie onto with a vehicle to just yank it out
Moving The Beast Into Your Home
If you have anything more than a 4″ threshold into your home, like any number of actual "steps", get out your wallet because that is going to cost you more!
With that same pallet jack, professional movers can get your un-packaged safe up to the front door.
Then with moving blankets to protect flooring, heavy plywood to sustain the weight to protect tile etc, and plexiglass sheets on top to help the safe "slide", the grunt work begins.
While a hydraulic machine can move some safes (and pianos) up stairs with just one person, those can be limited to safes under 1500 pounds or so; hence, not going to help in the situation we have here.
Two very strong men (or maybe a gal…) preferably a third available can slide the safe around with a lot of grunting. Be careful what you brace yourself against to push, you can break drywall in the process (ask me how I know).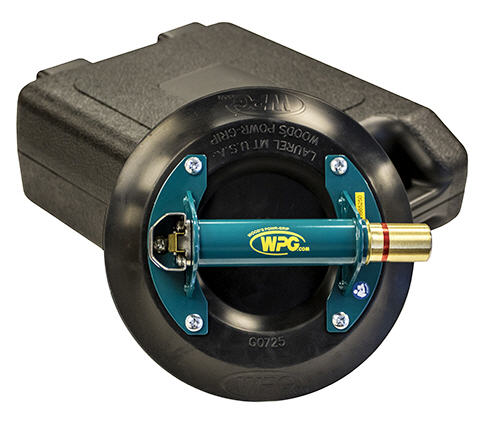 To get additional grip on the safe, the movers may be equipped with 8 or 9″ Woods Powr-Grip suction cup handles; you may even see them put a strap on one of this in order to put their whole body into it. Woods claims 125 – 150 pull on these, I'm pretty sure I've witnessed more than that and they held.
These are vacuum powered suction cups with a plunger to increase grip and a release button to remove.
Take careful note of who needs to be in the room when the safe is completely blocking the doorway and you now need more muscle inside the room. Hopefully there is a 1st floor window to climb through (again, ask me how I know).
It's a process, yet it's typically doable; might take 3 hours even to get it inside the first room inside your front door.
Have your credit card handy because it may easily cost $750 or more just to get the vault from the garage to a 1st floor room with no additional steps on the porch.
Do You Have A Post-Tensioned Slab Home? – WARNING!
In Central Texas all the newer homes seem to be constructed on post-tensioned concrete slabs. These foundations have high tension cables or "tendons" going through them. (See more photos at bottom)
This is important when it comes time to bolt down the safe.
Never mind that there could be a water line or something in some slabs, hit one of these tendons good enough with your hammer drill to where that tendon snaps and:
The concrete can blow up in your face and totally ruin your day
The tendons can blow out the ends of the slab on each end, totally ruining your day
The repair costs can be $5000, $10,000 or more – if it can be properly repaired at all
The solution?
GPR Scanning (Ground Penetrating Radar)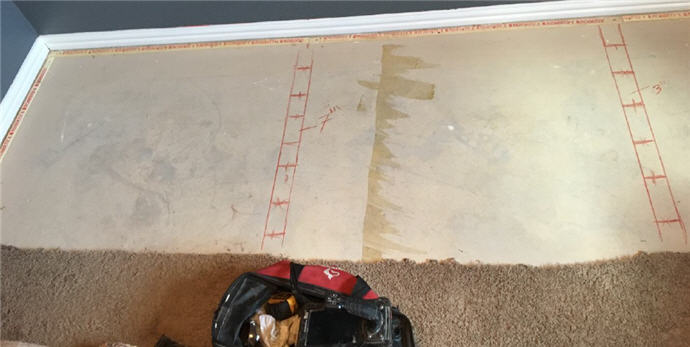 GPR Scanning will set you back another $450 or so, with a minimum of 3 hours (including travel time) plus $175/hr thereafter. To do the area shown above took all of 15 minutes.
Yes, they can scan through carpet but I guess it's not as accurate. As it is they claim the depth could be 1 – 2″ off.
The tendons on the job above where shown at 7″ deep and 3″ deep; another spot showed as shallow as 1″; so, YES, you can easily hit them with a bolt down job.
The recommendation is to allow 3″ horizontal buffer as well.
Some guys say just "be careful" when drilling and stop if you see pieces of blue or red plastic (the casing of the tendon, which can really be ANY color) coming up.
Well, my answer is that if you are risking a $300 drill bit – be careful. If you are risking a $10,000 repair on a foundation plus concrete and cable in your face… do the scanning.
Remember, you probably have your head in a dark safe when drilling.
Summary
Getting excited yet?
Yeah, to do a "real" vault properly takes time, planning, waiting and … you guessed it, LOTS OF CASH!
I'm not saying don't do it, because I feel if you have a decent gun collection with some other miscellaneous valuables it could be the right thing for you to do.
My goal is to give you some idea of what you may be getting yourself into AHEAD OF TIME!
I had to find out the hard way and my wish would be that someone else could learn the EASY WAY…
Comment with questions!
Please note: We have no official relationship with VaultProUSA, we just like their vaults. Call them and say Roger at PistolSnipe.com recommended them and see if you can't squeeze a little better deal out of them!
More Post Tension Foundation Pics (Texas)
Here is what the prep for the slab looks like: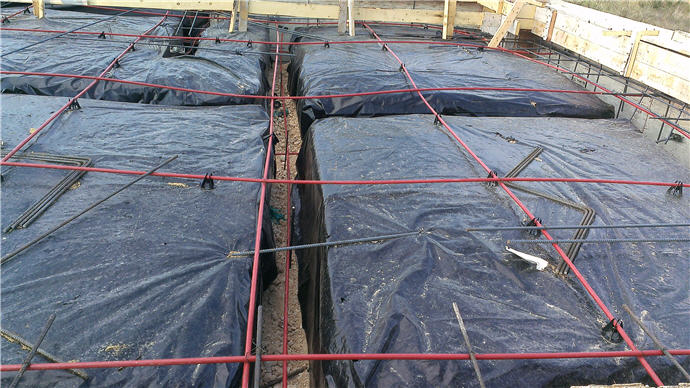 Here you can see the greased cables (minus the sheath) sticking out through the plywood: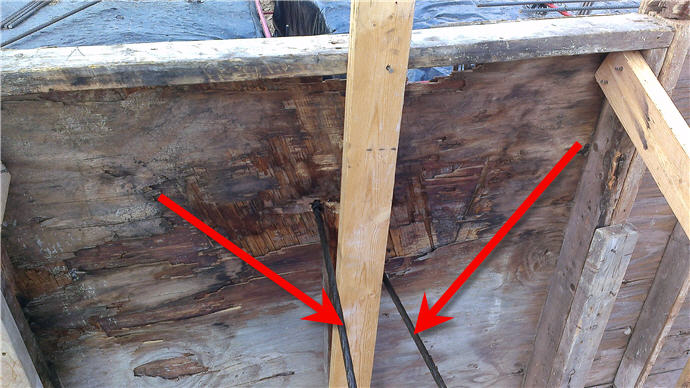 Another view, plumbing and perspective: