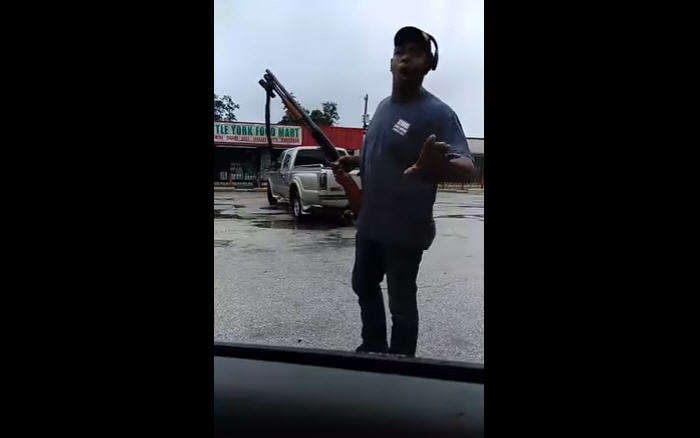 Natural Disasters Can Be A Perfect Time For Body Armor
In the picture above (from a viral youtube video) a former LEO has taken it upon himself to stop looters from clearing out a grocery store in his neighborhood with a menacing looking shotgun! (I would feel better if he were protecting himself with a quality bulletproof vest)
If you listen to the dialog, he is calling on ALL good people – not just former law enforcement – to step up to the plate and defend their communities against lawlessness.
You do not have to be a police officer – current or former – to have a vested (pardon the pun 🙂  ) interest in stopping this kind of behavior.
Looting In Times Of Trouble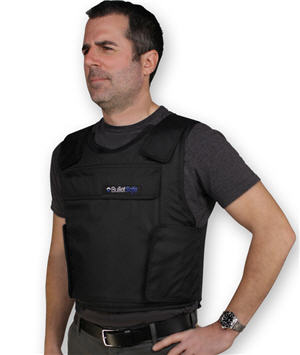 Now, you may also have seen criticism of anti-looting statements and even heard of the social backlash against a reporter who alerted police officers he was working with of looting going on.
Folks were saying: "It's not 'looting' to be taking things you NEED".
Really?
In the full video of the defender in the pic above, an abandoned flat screen TV that had been stolen was dropped in place by looters who encountered the shotgun wielding former cop. Are you trying to tell me someone NEEDED that flat screen TV?
I don't think so…
Personally I'm a firm believer on stocking up the pantry when things you NEED are on sale and being able to ride out a few days of severe weather in the safety of your home. And if you have to leave your home for safety… you don't "need" that stuff from the local store do you?
Cajun Navy Attacked 
Natural disasters bring out the best in most people. Hurricane Harvey was no different in that the 'Cajun' Navy arrived on scene with flat bottom fishing boats to help rescue and evacuate those who were not able to get out in time for one reason or another…
(And of course others stayed longer than they should have for fear of looters stealing all their belongings. Some robbers even tried to pass themselves off as FEMA workers telling folks they needed to leave their home and then stealing their stuff after they complied!)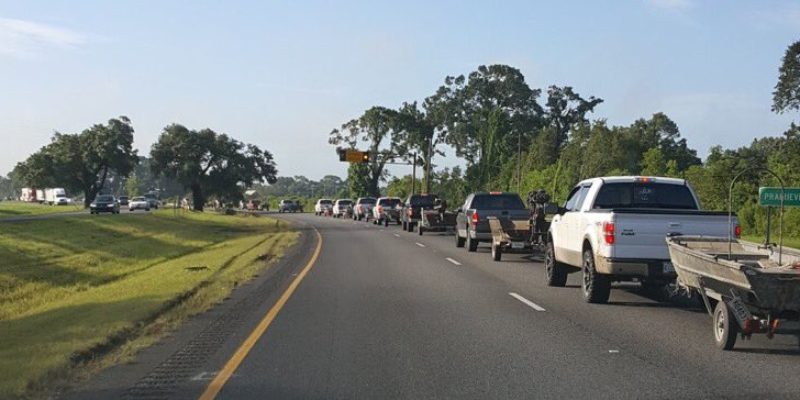 Sadly, however, natural disasters also bring out the worst in the worst kind of people.
Reports were circulating this week that elements of the 'Cajun Navy' were forced to suspend operations because they were fired upon!
I'm sorry, folks – Ok, the truth is I'm NOT sorry… – the Cajun Navy needs to return fire in an overwhelming fashion and eliminate the threat then continue operations. No need to bury the bodies, let the flood waters do their thing. Be responsible and pick up the weapons and move on to another rescue.
While one must be careful in the water with how much gear you throw on it only makes sense that if teams of workers are coordinating efforts that some be 'set aside' as armed defenders of the rescuers and give themselves every opportunity to not be harmed in the process.
Depending on the boat and the situation, a comfortable yet protective bulletproof vest that is either worn or kept handy to be donned in time of trouble can make a lot of sense.
Riding Out The Storm
Make no mistake, some folks are going to ride out the storm at home – and that's their decision to make.
If they do so, they are in danger from the storm AND the lowlifes.
And while plywood might be the best way to protect against the storm, a bulletproof vest might be the best addition to that 12 ga. when it comes to surviving every threat.
A high quality, comfortable, affordable bulletproof vest is not just for Police Officers – it's available to you as well – CLICK HERE TO LEARN MORE