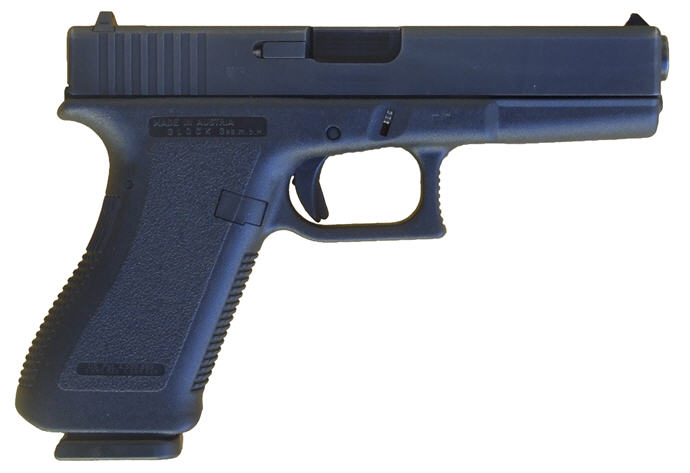 Is The Glock 17 The Perfect Pistol?
The Glock 17 can be a divisive firearm; some love it (like I do) and others think it's the ugliest gun ever made. Well, sort of like the A-10 "Warthog" Thunderbolt II in a way. The above pictured is a 2nd Generation (new ones are 4th), before they started forming finger groves in the grip and attachment "rails" under the barrel.
Back in the day when I got my first Glock it was all about buying used ones that had pre-Brady 17 round magazines; man, what a complete waste. All the Brady law did was make magazine manufacturers rich (USA mags claimed they sold more mags to people when they only had a 10 round capacity).
The result for guys like me is that we ended up paying more in the late 1990's for used Glocks than a new one goes for today. Used pre-ban mags all on their own went for $70 – $100. Thanks you morons in Congress.
Tip: If you have any Gen-1 Glock mags you should probably throw them away, the plastic covering will crack. You can buy brand new ones today for $19.95 – $29.95.

So Why Do I Consider The Glock 17 A Baseline?
Let's start with the 5 primary reasons I compare everything else to a Glock 17:
It's ubiquitous, found everywhere the world over, needs no special training
Chambered in NATO standard 9mm, inexpensive (relatively) and available the world over with 17 rounds in a standard magazine
Works out of the box
Almost indestructible, will still shoot full of water and sand
Fits most shooters hand acceptably
A Gun Known Around The Globe
Not everyone in the world has access to handguns, but even those who don't often know what's around, either from military service, police acquaintances or just movies. If I was dropped anywhere on the planet and wanted to obtain a handgun, a Glock 17 would win out over any other options offered me, and may be more likely to be offered.
A Glock is also probably the closest thing to a revolver you can get in an automatic. No fancy levers or switches, though it does take a smidge of practice to get the hang of those tiny take-down barbs, (once a round is chambered) just pull the trigger and it goes bang. Changing mags is also simple and straight forward (as are most semi-autos, but you ought to try the bottom-catch on an old Sig Sauer P225).
17 Rounds of 9mm Luger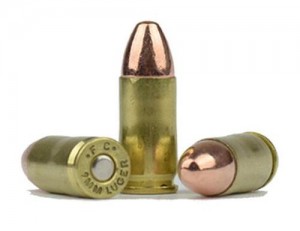 Tell me what other 9mm or comparable semi-auto holds more ammo than a G17? Tell me what other ammo is easier to find around the world than 9mm Luger? Tell me what comparable ammo you can buy cheaper than 9mm Luger (currently around $209/1000, no tax, plus about $25 shipping from a couple of places online)?
What more needs to be said?
It Just Works
Granted, times have changed. MOST firearms you buy today will work out of the box.
Yet I can recall decades ago when a lot of 1911's needed to be "tweaked" in order to be reliable. Who needs that?
Sig Sauer are known to need to be "run wet", ie, lots of oil. Yeah, I want gun oil on my clothes don't you?
Glocks can get too dry, I've had that happen, but they sure don't need much oil or attention.
As Reliable As A Worn-out 1911?
An old Army armorer once told me that in the service they wanted to be able to shake a Colt 1911, .45 auto, and here the parts rattle. That meant it was "loose" enough to continue to function once it got full of mud, sand and water. Wasn't as accurate, of course, but the Army .45 wasn't known for long distance shooting.
Just go to youtube if you want to see videos of a Glock 17 full of water and sand that still shoot; and, for the most part, they aren't as susceptible to rusting either.
Fits Your Hand
The only gun that ever really felt better in my hand when I picked it up was a $1200 FN pistol that I don't even know the exact model of. I couldn't afford it so it didn't matter. A Glock 17 feels good in most people's hands, large or small.
I have big hands, big enough to field a Glock 21 (.45 auto) and the 17 fits great, shoots great. My wife is vertically challenged (short) and has small hands, yet she has scored some of her best targets with a Glock 17.
Very few people cannot make a simple mental adjustment and find that the G17 will work for them.
4 Bonus reasons to love the Glock 17:
OK, so if the 5 reasons above that a Glock 17 is the baseline of all handguns, then how about some "bonus" reasons?
"Eats" any ammo you feed it (brand, style: as long as it's 9mm Luger)
Glock "safe action" considered to be safe for any style carry
Has smaller "siblings" (Glock 17, Glock 26) that will use the same magazines (they just stick out the bottom of the smaller guns)
Amazing factory support
Ammo
I have never found any Glock that would not feed a particular brand of ammo. My Springfield Armory XDS will absolutely fail to fire about every other round of GECO brand .45 auto. I can put those same rounds in my G21 and they go bang.
Glocks are often considered the standard by those who design and review ammo.
Safe Action
They call a Glock "double action" but to those of us who think of a revolver for double-action or the long first pull of a DA semi-auto it's a weird choice of terms.
Bottom line with a Glock is that if you keep away from the trigger, nothing will cause it to fire including dropping it. Therefore, most everyone feels it's safe to be carried in almost any manner considered reasonable.
Family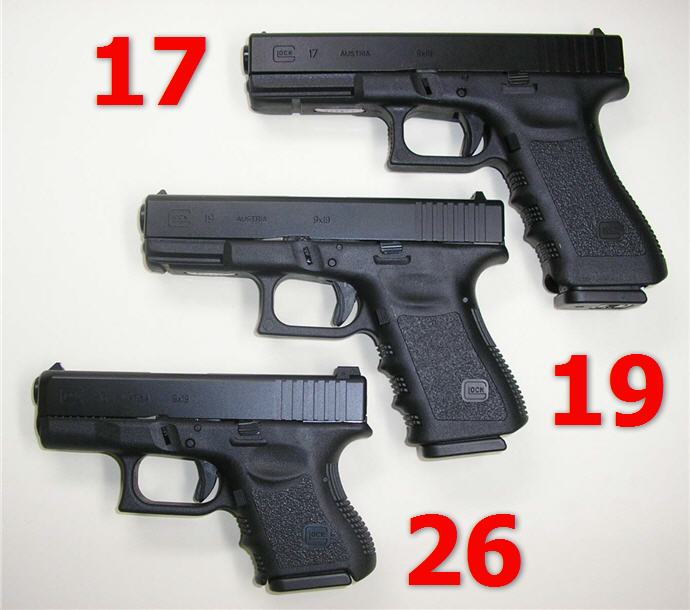 Want to carry a smaller backup gun but not have to worry about a different set of spare mags? The Glock 17 has a compact sibling in the Glock 19 and a sub-compact sibling Glock 26. The 19 carries 15 rounds in the mag and the 26 carries 10.
All three of these will accommodate a 17 magazine and just stick out the bottom of the smaller two.
You can even extend any of the magazines with a "+2" spring and mag baseplate to add 2 more rounds; and, an over-the-top 31 round magazine is also available now that the idiotic Brady law is expired.
Warranty Support
If there EVER is anything wrong with your Glock pistol simply call the factory in Smyrna, GA, USA and get a return merchandise authorization (RMA), send it to them (insured). They will PROMPTLY fix it and ship it back to you for no cost, just pay the shipping to them.
It does not matter if you bought the pistol new or used, it doesn't matter if the pistol is 20 years old.
What more could you want for warranty support?
Conclusion
Argue all you like, there are just too many things to like about the Glock 17 and reasons that it should be the baseline to compare other semi-auto pistols to.
If I could have only 1 handgun, this would likely be it.
Do I like the stopping power and lower decibel rating of the .45 auto? Sure, but it's more expensive, and pretty much USA centric cartridge.
Thankfully – for now – I'm not limited to just one pistol!