Keep You Out of the ER and Squad Car
Follow these concealed carry tips and you might just avoid a very bad day that could even end up being your "last day"!
Let's first talk about what might constitute a bad day for someone carrying a handgun concealed (or open for that matter)?
Being loaded into an ambulance because someone shot you would definitely count
Getting a $4000 taxi ride to the emergency room because you shot yourself would be bad as well
Having your handgun discharge without your intention, whether you call it an Accidental Discharge (AD) or use the increasingly popular and likely more appropriate term Negligent Discharge (ND), even without a trip to the ER can ruin your day no matter what the result
Getting seated in the back of a squad car would certainly fit my definition
Without following the tips for carrying a gun covered below, it's possible that your firearm will not function when you need it. That can lead to you getting shot by someone you confidently confront with a gun that ends up non-operational and unable to protect you.
In addition, these tips can help prevent your firearm from being discharged at an inopportune time, pointed in a dangerous direction.
Residents of some states may even find themselves at odds with the law if the concealed firearm become momentarily visible (Texas was that way for about 15 years!)
Now that we are all on the same page about what we are trying to avoid, we can get going and talk about actually strapping on that hogleg (or perhaps more likely stuffing polymer inside your belt…) and, optionally, leaving the house.
At this point we are presuming that you already have your concealed carry handgun of choice already purchased; perhaps you even found our article on 9mm caliber handguns valuable? So we will not be discussing potential bad choices in carry gun selection – that's another article for another time.
Concealed Carry Tip #1: Select, Secure & Maintain
Select, secure & maintain; a good concealed carry holster that is.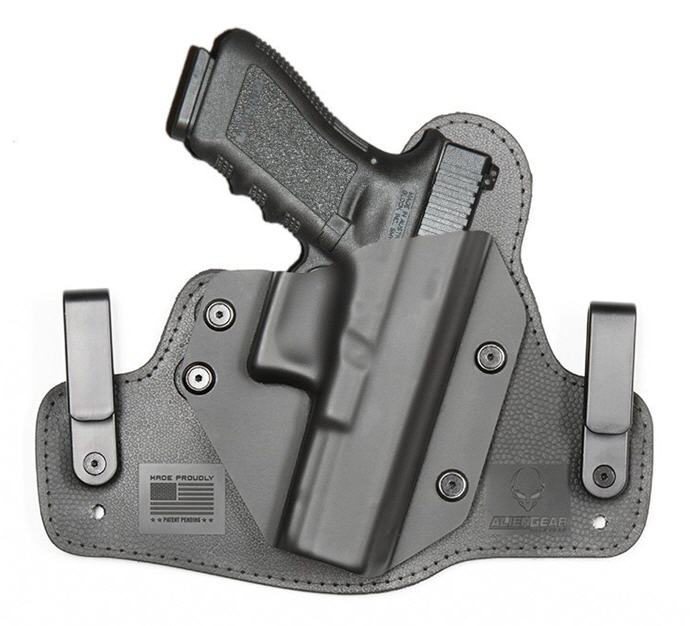 Select a quality holster
Wherever on your person you decide to carry your firearm, a quality holster is required. I don't care if the gun fits in your pocket or purse it should still be secured in a quality holster.
I think most of us have heard about a firearm in a pocket sans holster being discharged in a church pew, or a woman (or child) discharging a firearm while rummaging through a purse. Or one coming unsecured, hitting the floor of a Cracker Barrel Restaurant and injuring others.
The holster has to perform a number of functions well:
Secure (as much as possible) the firearm where you want it to ride
Protect from unintended discharge – usually by covering the trigger guard
Protect the firearm from foreign matter and damage, whether dirt, lint, perspiration or the front sight being knocked off
Allow for not only a safe draw, but also a safe "re-holstering". A holster that collapses once the firearm is removed could be unsafe to re-holster
Secure the firearm in the holster
Make sure you understand how the holster is to be properly used and then use it that way. Take some time to test it before carrying a loaded firearm out in public.
I remember my first ankle holster when I was young…
All it carried was a small .22LR pistol but when I walked the holster started moving on my leg; when I started running – forget it.
Similarly, shoulder holsters look really cool on James Bond, Don Johnson (does anyone even remember Miami Vice anymore) or any one of a number of police shows. Funny thing is, I'm not so sure those actors are wearing that firearm except in scenes where it shows, because a full size pistol is not easy to conceal on most people in a shoulder holster with typical clothing.
Nor is that shoulder rig necessarily all that comfortable for all day long.
Appendix holster? Great! Now get in your car or sit down at your desk. Still thrilled with it?
Your temptation may be to "adjust" things to where it's more comfortable but perhaps not functioning 100% as intended.
And finally, dare I say this, give your holster the "bathroom" test. What happens to that IWB holster with no strap retention when you pull your pants down in the stall?
More than one firearm has been lost in the restroom; and if it falls from some height, will it go off? That backstrap safety won't help, it may very well land on that and deactivate it just as your grip would. (The drop safety is a wonderful invention)
Guess who uses the same "facilities" gun owners do?
Felons
Mentally challenged
Children!
Maintain your holster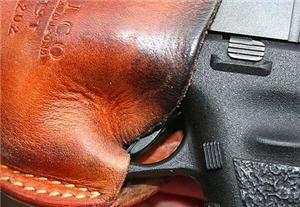 Most holsters do not require much maintenance; though they do wear out! A lot of us have probably seen this one-time quality holster – making the internet rounds – that is just worn out; to the point that it was actually a contributing cause for an ND.
Why do I say "negligent" (the "n" in "nd")?
Well, it's up to YOU to make sure the holster is in good repair; it's not up to your gun. If your holster has a retention mechanism, make sure it is working.
For instance, some OWB OEM "plastic" holsters are suitable for a purpose – I use one for my XDS sometimes. The retention is adjustable with an allen wrench. Over time, it may loosen or wear to the point it no longer retains the firearm as intended.
Check it! Perhaps use some (BLUE – NOT RED) loctite on the screws.
How about the clips for your IWB holster? They are probably adjustable; make sure they are not coming loose.
If your holster is leather, perhaps the manufacturer has given instructions on how to protect the leather so it does NOT collapse like the one in the picture. If not, why not ask them!
Concealed Carry Tip #2: Care for the Magazine
This tip sounds like it's for semi-autos only, yet let's consider the cylinder on your revolver as an ammunition magazine since, in reality, it is.
Both the cylinder and a box magazine are subject to dirt, lint and moisture which can foul the operation and proper feeding of ammunition; yes, even perspiration can get into the magazine depending on the holster and other factors.
Just because you don't shoot the gun does not mean it does not need to be cleaned, inspected and lubricated according to the manufacturers specifications.
One of my police friends once saw a detective be disarmed by a supervisor who was then unable to remove the crudded-up ammunition from the revolver's cylinder. It may have fired when needed, but reloading would NOT have been an option in an ongoing gunfight. He never did a single thing with it except put it on each day.
While it is almost universally agreed that your semi-auto's magazine does NOT need to be unloaded/re-loaded to protect the spring from damage, some concealed carriers make the mistake of loading up a brand new magazine they have never tested, with expensive self defense ammo they do not want to shoot because it does cost so much and wind up with an untested magazine full of older ammo and a few years accumulation of debris over time.
Personally I prefer to have a few new magazines that get regularly loaded, shot, inspected then re-loaded with fresh ammo of a variety that I have tested (see the next tip).
Concealed Carry Tip #3: Rotate Quality, Tested Ammo
Most of us probably know that ammunition can last decades and still fire reliably; we see this all the time with surplus military ammo that I myself have purchased and fired plenty of.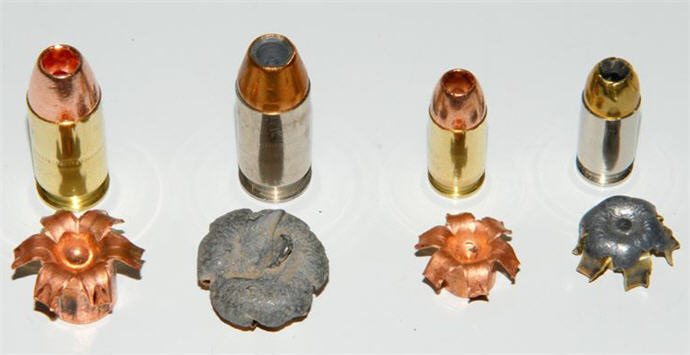 The caveat, though, is that the ammo be properly stored. The magazine (or cylinder) of your daily concealed carry gun is NOT proper storage for the long term.
When you buy ammo for your carry gun, it should NOT be generic target ammo even though such ammo is plenty deadly. Just last year I found a round of 9mm target ammo that would not chamber properly due to a poor crimp on the bullet. While not impossible, it is much less likely to happen with expensive self defense ammo.
Here's what I do:
Buy only ammunition rated for the gun; no +P or +P+ unless it's approved in YOUR model firearm
Use name brands tested & reviewed by reliable sources
TEST that ammo, at least 100 rounds (more is better) in a semi-auto to insure not only proper feeding, but also that your firing pin actually ignites the round (Yes, I have examples to back this up but no room here to go into details)
Inspect the ammo as I load it into the magazine for any obvious defects (or damage if dropped)
ROTATE the round that gets chambered if the gun gets unloaded/reloaded
Note that last point.
Chambering the same round over and over again can damage the case or possibly the primer over time. Why risk it? Throw that round in your range bag and shoot a clip of it every time you go to the range. Take a fresh round out of the box to top off the magazine. If you happen to unload each day, perhaps rotate through the clip and replace monthly…
Here's another benefit of regularly shooting the self defense ammo (from your carry gun):
Not only are you testing to make sure your gun does like that ammo but you also get used to the (likely) increased recoil from the (probably) hotter self defense rounds over the normal target ammo you shoot.
Bonus! Tip #4: Hit Your Target On Your First Shot
Very few of us understand the stress of a live fire situation; all we can do is train.
What we can be pretty confident of, though, is that if you cannot hit your target on your first shot at the range, you likely won't in real crisis under more stress than you have ever experienced in your life.
Some say, "that's OK, it's why I carry 15 rounds"…
Seeming to forget that the threat might just return fire and also have 15 rounds!
Give yourself every advantage you can by learning the proper shooting fundamentals to hit what you aim at, consistently. Make the first shot count, not just hit "somewhere in the center mass".
Conclusion
The reason we carry a gun on us, concealed carry or open carry, is to protect ourselves and our loved ones should the need ever arise. Well, just like the fire extinguisher we hope we never need, our carry gun and components need to be inspected and tested regularly.
Follow these (FOUR!) concealed carry tips and let's hope you never have a really bad day and end up restrained in any vehicle that has flashing lights on top.
Oh, and one more thing:
Being able to hit what you aim at makes target shooting a lot more fun too…  🙂